Today's Challenges:
Local network, file and e-mail servers as well as fast connection to Internet are the basis for effective work also in small and medium businesses. Traditional antivirus is no longer enough for protecting against new and fast spreading viruses, worms and Trojans or clever hackers.

The Solution:
F-Secure® Anti-Virus™ Small Business Suite is an easy-to-use, centrally managed information security solution especially for Microsoft Small Business Server environment. It is designed for small and medium sized businesses, and it includes all needed components in one package flexibly licensed (5-99 devices). With this solution, you can concentrate on your business and let F-Secure to work against network threats.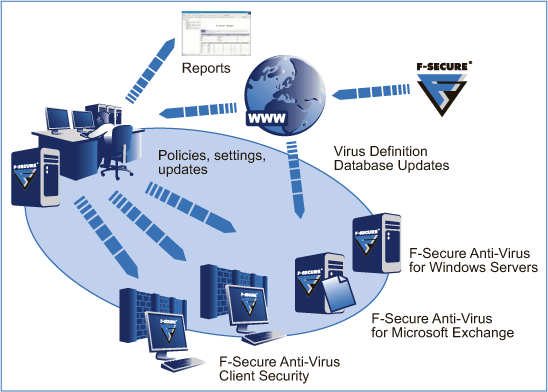 Products included in F-Secure Anti-Virus Small Business Suite
The solution is easy to use and yet comprehensive in protection. It offers cost savings through increased productivity. The solution includes the following awarded software:
F-Secure Anti-Virus Client Security - antivirus and desktop firewall for workstations
F-Secure Anti-Virus for Windows Servers - antivirus for file servers
F-Secure Anti-Virus for Microsoft Exchange - antivirus for e-mail servers
F-Secure Policy Manager - central management
Key Features
Easy-to-Use, Low Cost Administration and Deployment
All F-Secure Anti-Virus solutions can be managed with one system from one location. With F-Secure Policy Manager antivirus products can be centrally installed, configured and monitored. Comprehensive reporting and alerting is available from the management console or through a web browser.
Extensive Solution
This information security solution stops hackers, viruses, worms and Trojans in the network, whether they spread via e-mail, file servers or workstations.
24/7 Virus Research
Antivirus products are only as good as the research and dedication behind them. The F-Secure Anti-Virus Research Team is on call 24-hours a day, 7 days a week responding to new and emerging threats. The research team, staffed with globally recognized virus experts, develops and distributes protection against new viruses promptly after their discovery and in many instances well in advance of other antivirus vendors.
Automatic Virus Definition Updates
Automatic updates several times a day and short reaction time during virus outbreaks guarantee that the virus protection is always up-to-date. The signature files of virus definition updates are automatically downloaded in the background using minimal bandwidth. The system administrator can always be sure to have the latest updates without having to search the Web.